*† - deceased/presumed deceased
Vicente Cano, a Venezuelan businessman, appears on the TNT TV series Dallas, in a total of seven episodes. The part of Vicente is played by Carlos Bernard.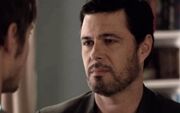 About Vicente
Edit
Vicente discusses the Harris Ryland dilemma in which Ann, an old flame of Harris's, confronts him for having trucks sent on the South American sites which John Ross was to have Ewing Energies drill, where she shot him and was charged for attemped murder. When the Ewings fail to hold up their end of the secret South American oil drilling deal between they and and an enviormentalist/con artist named Marta Del Sol, where he was to be the main financier, he turns violent, as he, who greedily wanted to control the whole deal, has Marta killed, making it look as if she committed suicide, as she fell from the balcony. He eventually is sentenced to prison, after federal agents raid his house. In season 2, he escapes from the supervision of the Venezuelan consul general while awaiting extradition. He holds the Ewings hostage at Southfork to force Christopher to turn over his methane extraction technology, but this attempt fails and he is shot dead by Elena's brother Drew Ramos. "
Ad blocker interference detected!
Wikia is a free-to-use site that makes money from advertising. We have a modified experience for viewers using ad blockers

Wikia is not accessible if you've made further modifications. Remove the custom ad blocker rule(s) and the page will load as expected.