Barnes Global


Barnes Global corporate logo.

Company type:

Predecessors:

Foundad:

Headquarters:

Dallas, Texas U.S.

Key people:

Industry

Oil
Consumer Products
Casinos

Curret owners:

Subsidiaries

Over 100 subsidiaries

Fate

Barnes Global is a fictional company on the updated version of Dallas.
It is owned by Cliff Barnes and Dr. David Gordon under the alias as Patricia Barrett. Dr. Gordon lives in Zurich, Switzerland and was Pamela Barnes Ewing's surgeon after the car accident that burned over 50% of her body.
Between the original CBS series
Dallas
and the 2012 TNT series version of
Dallas
, Cliff Barnes built a multibillion-dollar conglomerate, consisting of over a hundred companies in over fifty countries, out of Barnes-Wentworth Oil, the company his mother had purchased back in 1982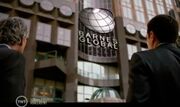 .
Bobby (Cliff's former brother-in-law), John Ross (Cliff's current son-in-law) and Christopher (Cliff's nephew and former son-in-law) find a financial report on Barnes Global that J.R. Ewing had, revealing Cliff's mother started the company and gave Cliff, Pam, and Katherine each one-third ownership. Katherine died and left her share to Cliff, which he later ceded to his daughter Pamela Rebecca. Meanwhile, Pam left Dallas in 1988 still owning her third of the company, with her son Christopher as a potential heir. With his mother missing since he was 7, Christopher seeks to declare Pam legally dead to inherit his mother's share of Barnes Global as a means of protecting Ewing Energies. Investigation initiated by J.R., however, reveals the likelihood of Pam living in Zurich. This is how Christopher found Dr. David Gordon and got his mother's will passing on her shares to him.
Off-Air Barnes Global Shares:
Cliff Barnes: 66%
Patricia Barrett: 33%
Original Barnes-Global Shares:
Cliff Barnes: 66%
Pamela Rebecca Barnes: 33%
Katherine Wentworth: 33%
1989 Barnes/Global Shares: (after Pam's assumed passing)
Cliff Barnes: 66%
Christopher Ewing: 33%
After Pamela Rebecca obtained Aunt Pam's shares:
Cliff Barnes: 33%
Christopher Ewing: 33%
Pamela Rebecca Barnes: 33%
Barnes Global Shares (by 2012)
Cliff Barnes: 33%
Chistopher Ewing: 33%
Pamela Rebecca Ewing/John Ross Ewing: 33% (upon their marriage)
External links
Edit
Ad blocker interference detected!
Wikia is a free-to-use site that makes money from advertising. We have a modified experience for viewers using ad blockers

Wikia is not accessible if you've made further modifications. Remove the custom ad blocker rule(s) and the page will load as expected.